Hits: 90
How to create an article on NOTA BONES
How to create a publication
1) Read the rules for authors
2) Check out the publishing requirements
3) Read this instruction 😊
Instructions for action:
Dear colleagues, you are free to add interesting materials on orthopedics and traumatology. Theн can include scientific articles, case reports, reports on events, presentations and news. You can add links, photos, videos and PDF files to your publications.
It's very easy to create an article:
To get started, click on the CREATE POST button in the FOR AUTHORS section of the top menu or click the CREATE POST button in My Account.
Как создать статью на NOTA BONES
Порядок создания публикации
1)  Ознакомьтесь с правилами для авторов
2)  Ознакомьтесь c требованиями к публикации
3)  Прочитайте эту инструкцию 😊
Инструкция к действию:
Уважаемые коллеги, вы можете свободно добавлять интересные материалы по ортопедии и травматологии. Это могут быть научные статьи, случаи из личной практики, отчёты о мероприятиях, презентации, новости. В свои публикации вы можете добавить ссылки, фото, видео, PDF файлы.
Создать статью очень просто:
Для начала работы нажмите на кнопку «CREATE POST» в разделе  верхнего меню «FOR AUTHORS» или нажать кнопку «CREATE POST»  в личном кабинете.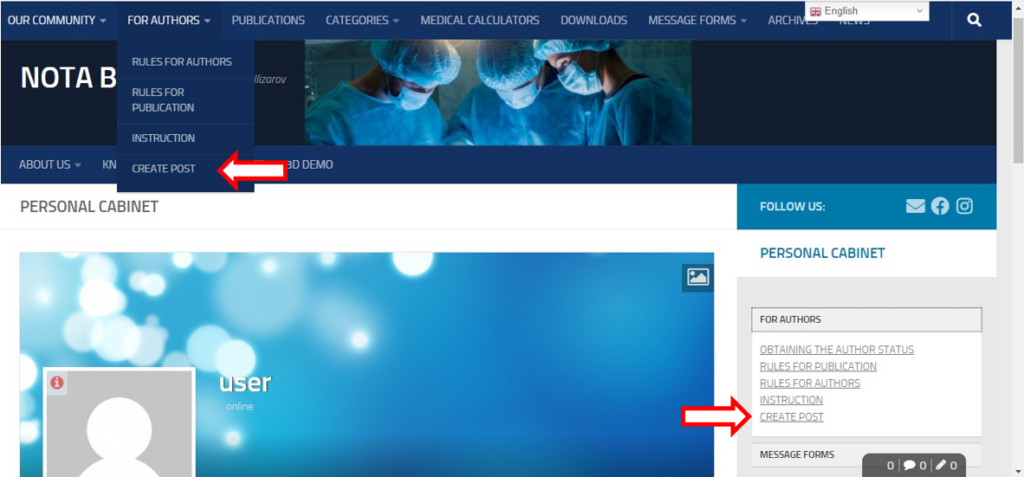 A template for creating an article containing 8 blocks will open
1 HEADING BLOCK
This field for creating the title of the publication is obligatory one. Maximal number of characters is 100
Write an interesting title
Откроется форма создания статьи с содержащая 8 блоков
1 БЛОК HEADING
Это поле для создания заголовка публикации – обязательное поле. Максимальное количество знаков 100
Напишите интересный заголовок

2 CATEGORIES BLOCK
List of choice for heading / category of publication is an obligatory field
Choose a category that matches the topic of your post
2 БЛОК CATEGORIES
Список выбора рубрики/категории публикации – обязательное поле
Выберите рубрику, которая соответствует теме публикации

3 BRIEF ENTRY  BLOCK
The field for creating a publication abstract is obligatory. Maximum number of characters is 200
Add short abstract of the publication here
3 БЛОК BRIEF ENTRY
Поле для создания аннотации публикации – обязательное поле. Максимальное количество знаков 200
Добавьте здесь краткое содержание публикации

4 CONTENT OF THE PUBLICATION BLOCK
The field for creating the main content of the publication and illustrations is an obligatory field
Add text,  links and illustrations to your article and format your text
4 БЛОК CONTENT OF THE PUBLICATION
Поле для создания основного содержания публикации и иллюстраций – обязательное поле
Добавьте текстовое содержание статьи, добавьте ссылки, иллюстрации, форматируйте текст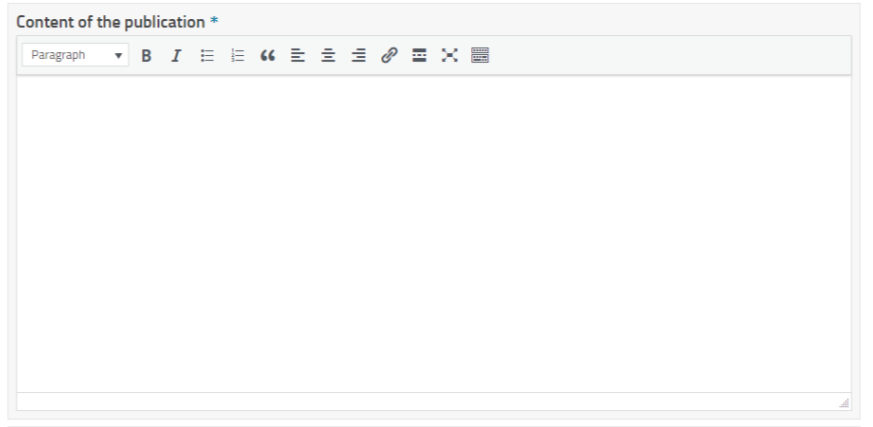 5 MEDIA DOWNLOADER BLOCK
Download illustrations when necessary. You can upload up to 5 illustrations with maximal size  of 1024 kb ,
Acceptable illustration file types are as follows: png, gif, jpg
Here you can download your entire publication in PDF format. It will be reflected as a link that will open in a separate browser window.
5 БЛОК MEDIA DOWNLOADER
Загружайте иллюстрации по мере необходимости. Вы можете загрузить до 5 иллюстраций размером до 1024 kb,
Разрешенные типы файлов иллюстрации: png, gif, jpg
Здесь вы можете загрузить свою публикацию целиком в формате PDF. Она будет отражаться в виде ссылки, которая откроется в отдельном окне браузера.

6 PUBLICATION THUMBNAIL BLOCK / PUBLICATION MINIATURE
Add 1 publication thumbnail sized up to 1024 kb
6 БЛОК PUBLICATION THUMBNAIL/ МИНИАТЮРА ПУБЛИКАЦИИ
Добавьте 1 миниатюру публикации размером до 1024 kb

7 TAGS BLOCK
Add keywords or create your own
7 БЛОК TAGS
Добавьте ключевые слова или создайте свои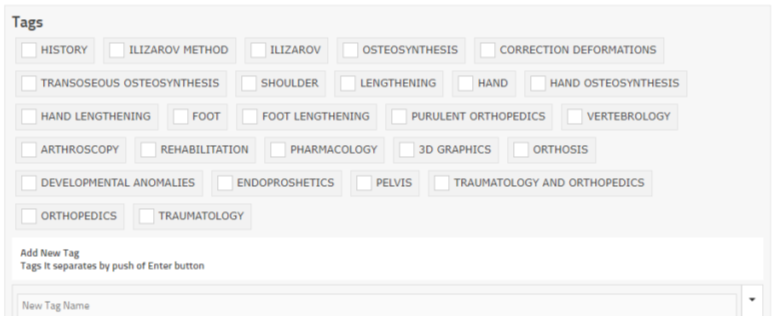 8  PANEL PUBLICATION CONTROL BLOCK
You can preview the publication, save the article in draft and your message publication button.
You can return to editing your article at any time, add new facts or correct inaccuracies.
8 БЛОК – ПАНЕЛЬ УПРАВЛЕНИЕ ПУБЛИКАЦИЕЙ
Вам доступен предосмотр публикации, сохранение статью в черновик и кнопка публикации вашего сообщения.
Вы в любой момент можете вернуться к редактированию своей статьи, дополнить её новыми фактами или исправить неточности.

Once everything is ready, you can click the "publish" button and your article will appear on the main page of orthopractica.com
Everything is done! Now colleagues will be able to be aware of your work. You are welcome to comment, answer questions and ask for opinions.
All your articles are available in the My Account menu by clicking the "MY ARTICLES" button
You can also send the publication material in * .Doc or * .PDF format by mail with a request to publish it. Email …….
Watch the video instructions on creating a publication
WAITING FOR YOUR INTERESTING ARTICLES!
Как только всё готово, можно нажать кнопку "опубликовать", и ваша статья появится на главной странице ORTHOPRACTICA.com
Всё – дело сделано! Теперь коллеги смогут ознакомиться с вашим трудом. Комментируйте, отвечайте на вопросы, узнавайте мнения.
Все ваши статьи доступны в меню личном кабинете по кнопке  «MY ARTICLES»
Также вы можете прислать на почту материал публикации в формате *.Doc или*.PDF с просьбой опубликовать его. Email…….
Смотрите видеоруководство по созданию публикации
ЖДЁМ ВАШИХ ИНТЕРЕСНЫХ СТАТЕЙ!